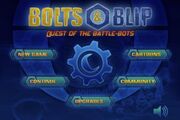 Bolts & Blip: Quest of the Battle Bots is an IOS game app that features clips from the original show. It also features the user to play as one of these characters: Blip, Bolts, Saedee, Welder, and Ratch-8. One of these characters can be used to shoot down opponents. 
Description
Edit
Now's the time to get ROCKED, SOCKED, AND RUSTED!
In the exciting robotic world of Bolts & Blip, your fast precision water-pistol skills are needed to rust your enemies!
Using clips from the original 3D stereoscopic animated series Bolts & Blip, and upcoming 3D film of the same name, all of your favourite characters have been brought to your iPhone and iPad.
Bolts & Blip: Quest of the Battle-Bots is an original game design that integrates both cinematic and first person shooter gaming action. Unlike other shooting games that use military style guns, Quest of the Battle-Bots features water guns which combine target skill development and entertainment. This game is also connected to the MogiMe social gaming network which provides features such as leaderboards, user profiles, achievements, as well as Twitter and Facebook integration. With these gaming features, players can win prizes through high score competitions.
Bolts & Blip: Quest of the Battle-Bots features:
First person shooting game features three game levels:
The Galaxy All-Stars Level – take down the number one team in The Lunar Leagu
 Blood Bots Featuring Four Sub-Levels – abolish the gatekeepers that are guarding the unyielding and dangerous robot, MegaBlood 
Final Boss Battle - fight MegaBlood, the giant robot created by the evil Dr. Blood programmed to destroy the city!
3D HD Stereoscopic graphics from the cartoon series combined with additional iPhone 4 Retina Display and game mechanics using the iDevice touch features.
Levels and Characters: Players choose their level of difficulty and then pick their favourite character to play as: Bolts, Blip, Sae-dee, Ratch-8, and Welder. By pressing on the character icon, not only do you select them as your player, but the character's facial expression light up as they exclaim their catch phrase from the cartoon series.
Upgrades: To help with the battle, players can use their game points to redeem different upgrades such as: ◦ water guns ◦ water bombs ◦ electric bombs ◦ oil cans
Cinematics: Before and after each game level, a cinematic clip from the original cartoon will be shown, with the option to view or skip the clip. Players can also find these cinematic clips under 'Cartoons' in the main menu.
Block Button: Players can defend themselves against the attacks with a BLOCK button which immediately provides a blue protective shield that causes the entire screen to glow.