"This is where we go to blow off steam. The life of a Civi-Bot is pretty boring, you know."
— Accoun-10 describes the purpose of the club in El Bolto Del Fuego
The Civi-Bot Underground Fight and File Sharing Club is an organization which holds illegal fight clubs where Civi-Bots wrestle each other for each other's amusement.
Background
Edit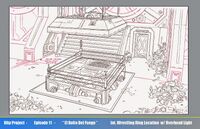 According to Accoun-10, it is a place to "blow off steam", because in his opinion the life of a Civi-Bot was boring. It has also been known for file sharing which is illegal in Lunar City.
The place has an admittance password that changes every two weeks (it was goldfish-lawnmower-2012). Battle-Bots cannot participate, ironic being the fact that Civi-Bots can't join the Battle-Bots.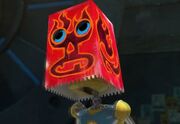 Bolts began participating in the club after he felt he wasn't appreciated enough, but Blip came to stop him. When Gridiron found a flyer of the place, The latter stormed the club, and later it was condemned. Tigrr Jaxxon however, was fond of the club and went in saying that it had come back together. He introduced himself as El Tigre Del Jacko, but he was kicked out for being a Battle-Bot.
References
Edit
Ad blocker interference detected!
Wikia is a free-to-use site that makes money from advertising. We have a modified experience for viewers using ad blockers

Wikia is not accessible if you've made further modifications. Remove the custom ad blocker rule(s) and the page will load as expected.