"I'm gonna need the long version, too!"
This article is a stub. Please help the wiki by adding more information.
Remove this template when finished.
"For that oily-licious thirst!"
— Klank Lockton promoting Dloob Cola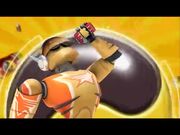 Dloob Cola is a popular soda drink created by the Dloob Corporation which is often advertised in the show during transitions or the advertisements on the walls of buildings.
It is also referred to as Petro-Cola.
Klank Lockton is the main person who narrates in the advertisements, besides Tigrr Jaxxon.
The advertisements often appear in the beginning of an episode or to make a transition.
In Steve in Charge, its only referred to as Petro-Cola.