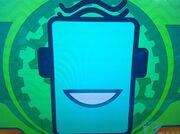 Garry (Voiced By Terry McGurrin) is the man in charge of Earth Command, an organization who created the Lunar League to solve human conflicts.[1] Like Dr. Tommy, he is an upbeat person.
Appearance
Edit
Although he is confirmed to be a human, his true appearance is not shown, just his "avatar". It has curvy hair on a rectangular green head, which appears to be wearing a black tuxedo.[2]
Personality
Edit
Garry acts like a peace-loving hippie. Because of this, he tends to use 80's like slang instead of proper grammar and the fact that he does not support fights.[3] He would prefer doing extra curricular things than his job as a leader like country clubs, swimming or boogie dancing.
References
Edit